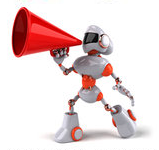 RoboCallz voice broadcast allows you to instantly send phone calls with ease while managing the entire process right from the Web. Instantly send alerts, notifications, reminders, political and spiritual calls, get out the vote - GOTV - messages with ease right from the Web. RoboCallz is great for beginners and seasoned professionals alike. beginners will love RoboCallz's simple and easy to use voice broadcasting interface.

No set up fees, no monthly minimums
With RoboCallz you outbound voice broadcasting and voice mail broadcasting, there are no costly set up fees or minimum call commitments. There are also no charges for busy or non-answered calls. Send as many or as few calls as your project requires.

Price
RoboCallz does not charge for unsuccessful calls such as busy or non-answered calls. RoboCallz only charges for successfully delivered calls.

Instant online set up and execution
Create, schedule and launch a full blown call campaign instantly right from the RoboCallz web-site. Send notifications, reminders or alerts with RoboCallz. Voice broadcasting, it's fast and it's easy.

Call land lines or cell phones
Deliver messages exclusively to land lines, cell phones or both.

Easy recording options
Record your messages using your own computers microphone and speakers. You can upload sound files created by professional announcers.

Lists
RoboCallz can use your existing call lists in comma delimited format.

Schedule call delivery times
Set delivery dates and times. Run a call campaign at different times in a single day or spread it out over multiple days.

Automatic removal of duplicate numbers
This feature ensures that you do not send duplicate calls to the same recipients and saves you money by removing these numbers from you call list prior to launching your call campaign.

Web-based auto-dialer
More powerful than the most expensive auto-dialer. Easier to use than any traditional auto-dialer. best of all no auto-dialer or equipment is needed to use RoboCallz.